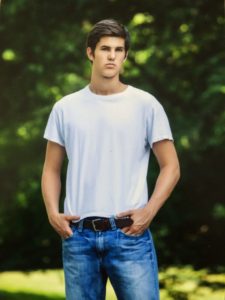 Ryan Christopher Mathis was a junior at the University of Nebraska Lincoln, studying to be a landscape architect, when his life was tragically taken in a car accident.
Words that come to mind when thinking of Ryan – Big Heart, Gentle Giant, always looking out for the little guy.
His nickname was Mammoth. He had a big heart and he welcomed everyone into it. If you were family, friends, on his team or simply connected in some way, you were taken in and many times looked after.
Family was very important to Ryan. He was very protective of his mom and his little sister.  Ryan and Lauren spent many spring breaks exploring the Bahamas with their grandparents. He was very close to his grandfather who loved fishing with Ryan in The Bahamas. His Grandpa was so proud when he shot his first deer during the youth hunt.
Lauren and Ryan were your typical brother and sister. They could tease and argue but when push came to shove, Ryan was her protector; her guardian.  He was excited when Dan, Abby, Natalie Meuers came into his life. Even more family to love.
Ryan was a talker since he was little. He talked endlessly with everyone – neighbors, friend's parents, his grandparents or a random stranger he found interesting. Like the guy sitting next to him and his uncle at the Viking Packer game with his head painted purple. Ryan was maybe 10 or 11 and started talking smack to the guy every time the Packers did anything. He was a big Packer fan.
Ryan loved experiences and making memories. Memories with with family, memories with friends. He  saved all of of the things that represented those experiences photos, ticket stubs all on his bulletin board of memories.
The game of basketball was a very important part of what shaped Ryan both mentally and physically. He loved not only the sport of basketball but also the "family" he developed in his teammates. Ryan started playing basketball in 3rd grade for the Woodbury Athletic Association (WAA), followed by the East Ridge Athletic Association (ERAA) and finally East Ridge High School. His basketball career expanded over 10 years of building a family with the same group of boys. They were a very important part of his life. Ryan was a 4-year letter winner and wrapped up his senior year season with the Conference Championship.
Although a behemoth on the courts, he was quite the opposite as a person. Ryan was a gentle giant with a big heart. He was sensitive and protective and deeply loved his family and friends. Ryan was always looking out for the little guy and those less fortunate than him. This scholarship will honor his legacy by looking out for those players that aren't given the same opportunities that he had. Ryan would be proud to play a part in helping the underdog fulfill his basketball dreams.